These Rebel Waves by Sara Raasch | Botanical Magic? Aye, Aye, Captain!
Remember when I was part of the blog tour for These Rebel Waves? And when I unboxed August's Fairyloot? Oh my goodness, you guys. I'm way too excited about this book, so I decided to write a review. You can never gush about your favourite things enough, right?! Anyway, here's my spoiler free review!
I received an ARC of this book from the publisher through Edelweiss for the These Rebel Waves blog tour. This has in no way influenced my opinion of this book
"You forgive yourself for what you've done, you admit your mistakes. You learn from them. And you improve."
My Review
Adeluna – or Lu – is a daughter of the revolution. She's a real badass and she's so clever! Her parents are politicians and it shows in Lu herself. Devereux – or Vex – is a Stream Raider. One with a hell of a past, really! He's supposed to be a criminal, but he's actually more like a cinnamon roll. I mean, he's so wonderful with kids! TEO! MY LOVE! The guy is also a walking, talking plot twist. I mean, oh my goodness?! You have to read it to know what I mean but oooooohh boyyy. From page one, all I wanted was these two to work together. They just had so much chemistry! I wouldn't say they have a hate-to-love relationship exactly, but that made it all the better! Their relationship is something special and I cannot wait to see how it continues in book two.
Benat (Ben) is a heretic prince. Whether he likes (and wants) it or not. I didn't like him as much as I loved Lu and Vex and he felt quite separate from the story for a while. I just couldn't figure out what his deal was! Fortunately for him, it all kind of makes sense in the end and I actually like him?! I liked his relationship with Jakes at first. It wasn't a "forced," over-the-top-present kind LGBTQ+ romance, which I liked. But then it came a bit predictable and that made it less interesting. Fortunately, the plot twists made up for it! And I'm sure those two aren't quite done yet… Hehe!
Besides Lu, Vex and Ben, we got a wonderful cast of characters. There's six-year-old Teo whom I just adore to death. He's so innocent in all of this and my heart broke for the boy but he was such a beacon of light in the story! Nayeli and Edda were awesome as Vex's crew. First of all, I just LOVE the name Nayeli and second, she's the best! She's a giggling, funny Stream Raider and that was super unexpected. Who says pirates need to be dark and evil all the time?! We didn't get to learn too much of Edda, but her presence in the story was really wonderful.
These Rebel Waves is basically a pirate fantasy. And I LOVED the pirates! Or in this case; the Stream Raiders. They aren't your typical bad-guy pirates with huge ships with sails. Raiders are part of a syndicate and they have steamboats. STEAM. BOATS! That's easily the coolest part. I do wish we'd learn a bit more about them and their ways, but the concept is really, really great.
Botanical Magic is officially one of my all-time favourite things in the world right now. Oh, my goodness. You thought magic was cool?! Try botanical magic. You can melt door locks with a simple plant! You can blow stuff up! You can jump from a cliff and not die! Alright, shutting my mouth now. Magic in books has always been one of my favourite things, but I love how botany is involved as well!
These Rebel Waves takes place mostly on the island of Grace Loray. Every element of the books comes together perfectly with this setting. The land has an incredible (political) history. It's really one of those places I'd love to visit on a holiday! When there's no wicked kings and angry raiders, obviously! There wasn't a whole lot of worldbuilding in terms of what it looked like, but I got a "sense" of the place? I can't really put it into words, but I love it.
My Rating
♡♡♡♡♡
These Rebel Waves is one of my all-time favourite books. It has epic characters, incredible magic and a wonderful setting. It's a book I'll be rereading time and time again. I already cannot wait for These Divided Shores!
About These Rebel Waves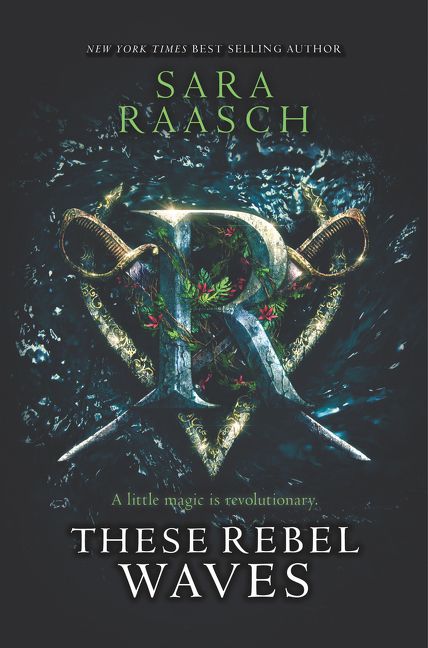 Adeluna is a soldier. Five years ago, she helped the magic-rich island of Grace Loray overthrow its oppressor, Argrid, a country ruled by religion. But adjusting to postwar life has not been easy. When an Argridian delegate vanishes during peace talks with Grace Loray's new Council, Argrid demands brutal justice—but Lu suspects something more dangerous is at work.


Devereux is a pirate. As one of the outlaws called stream raiders who run rampant on Grace Loray, he pirates the island's magic plants and sells them on the black market. But after Argrid accuses raiders of the diplomat's abduction, Vex becomes a target. An expert navigator, he agrees to help Lu find the Argridian—but the truth they uncover could be deadlier than any war.


Benat is a heretic. The crown prince of Argrid, he harbors a secret obsession with Grace Loray's forbidden magic. When Ben's father, the king, gives him the shocking task of reversing Argrid's fear of magic, Ben has to decide if one prince can change a devout country—or if he's building his own pyre.
As conspiracies arise, Lu, Vex, and Ben will have to decide who they really are . . . and what they are willing to become for peace.
Have you read These Rebel Waves yet? Or are you planning to? Do you like pirate books? Let's chat!
* This post contains affiliate links. More info in my Affiliate Disclaimer.